Join the thousands of happy customers who started their business with a Ricoma machine.
WHITE TONER
TRANSFER PRINTER
+
PAYMENTS AS LOW AS $166/MONTH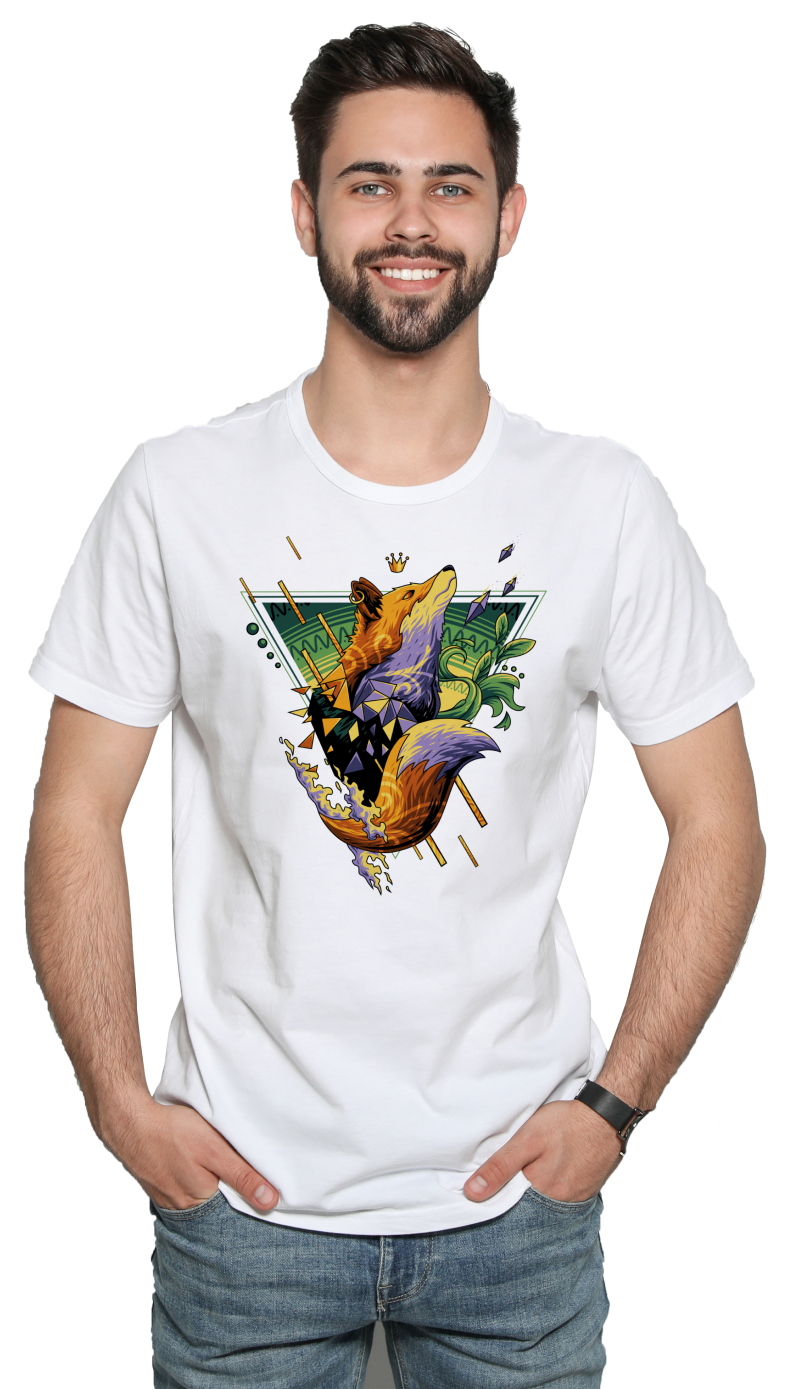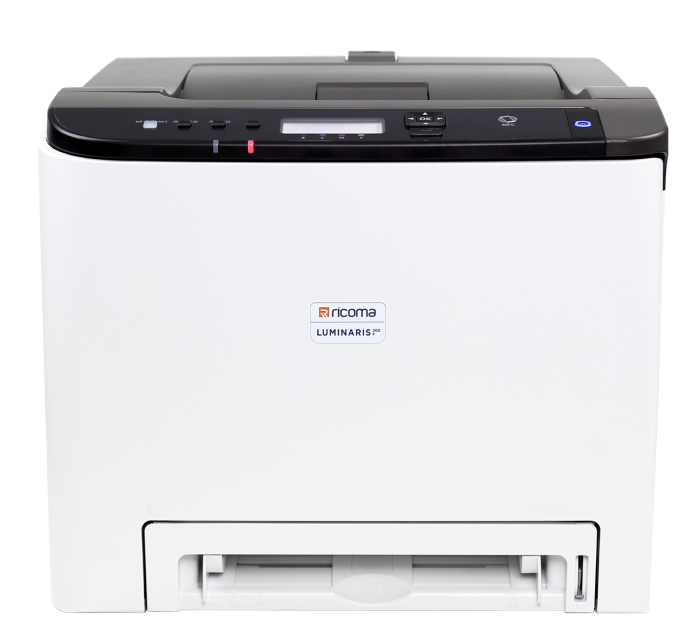 I WANT INTEREST-FREE FINANCING

*0% financing based on approved credit
*All promotions and accessories listed on ricoma.com apply to the U.S.
Do you want to start a printing business or add print to your existing business?
If you're looking to add variety and offer branded apparel and customized goods for your customers, then you're in luck because we just unveiled our newest white toner transfer printer, the Luminaris 200!
And for a limited time only, we are offering this state-of-the-art printer in an affordable bundle package that includes one of our signature heat presses and additional accessories starting at only $166/month with 0% financing.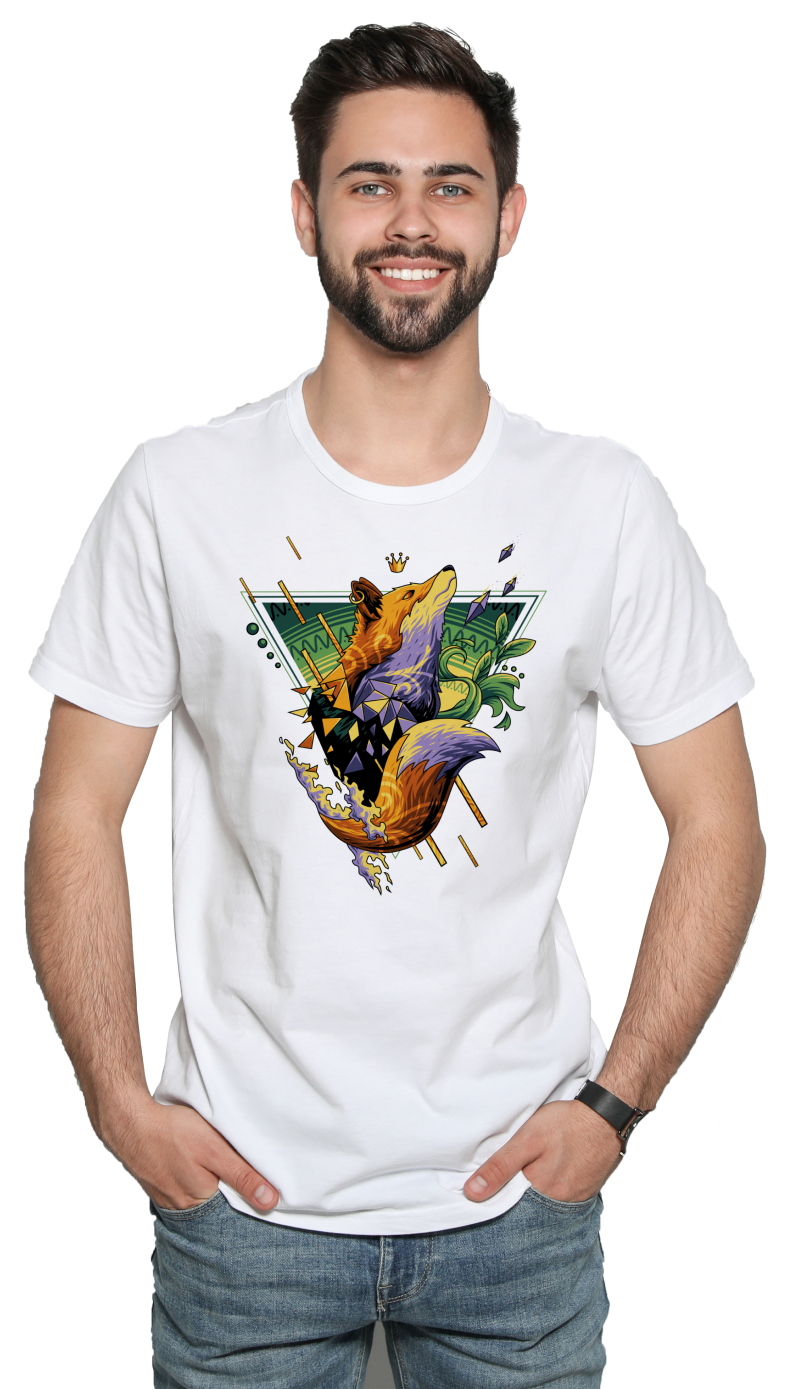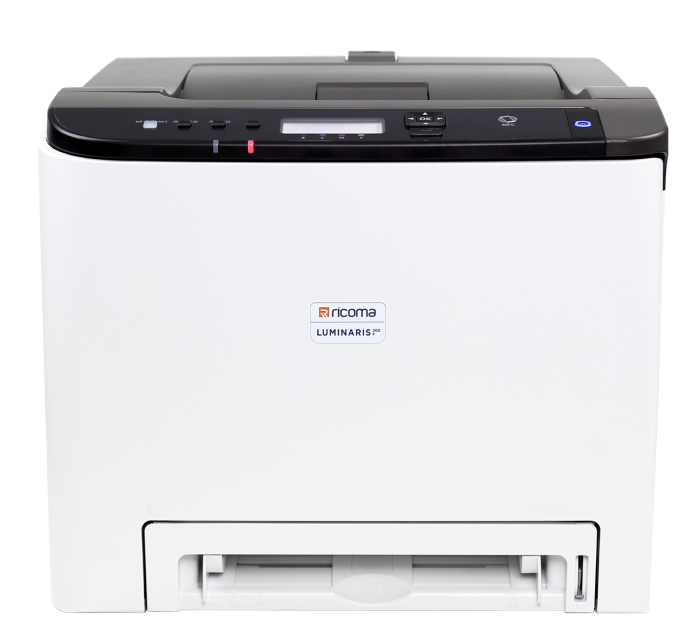 I WANT INTEREST-FREE FINANCING

*0% financing based on approved credit
*All promotions and accessories listed on ricoma.com apply to the U.S., Canada, Caribbean and select LATAM countries only.

See why the Luminaris 200 is the best way to
start your printing business
Expand your printing capabilities.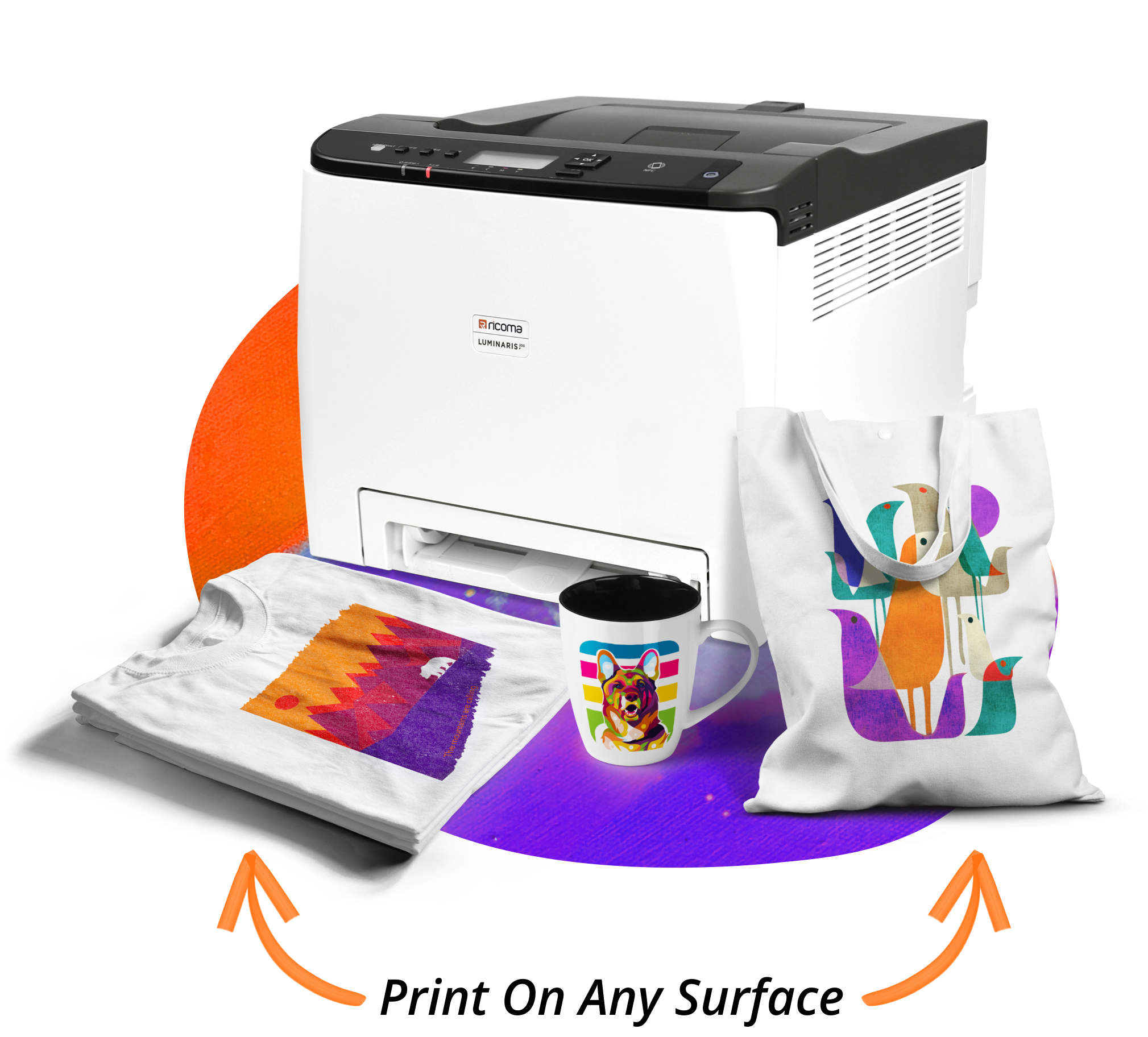 The Luminaris 200 is one of the most versatile white toner transfer printers in the market. It can print full-color designs that can be transferred onto cotton, polyester, dark garments, light garments, and even hard surfaces.
This allows you to create stunning designs on a wide range of apparel and commonly-used items such as t-shirts, sweatshirts, jackets, caps, aprons, tote bags, menus, mugs, and more. You can transfer any artwork to light and dark fabrics when combined with the two-step transfer paper for vivid colors, bright whites, and true blacks.
A Versatile
All-In-One Printer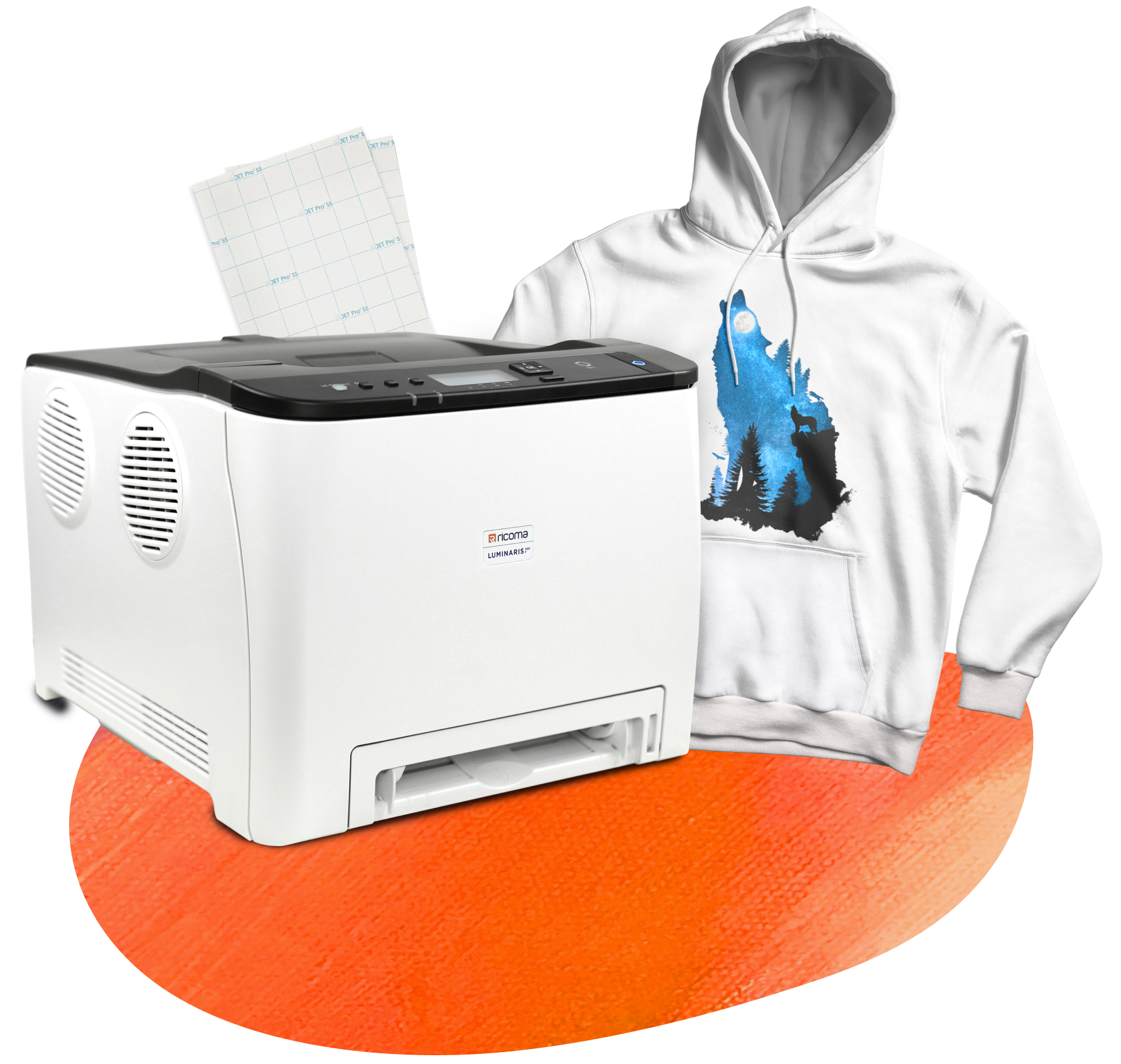 Equipped with white toner, the Luminaris 200 can print bright and vibrant designs without leaving a mess behind. That means you don't have to waste any time cleaning up after completing a job.
The Luminaris 200 also has a convenient swappable toner system that allows you to switch back and forth between toner cartridges. So, when you're done printing on t-shirts, replace the cartridge with the black toner to print your marketing and sales material. You can even print high-quality flyers, beautiful thank you cards, and elegant invitations. This eliminates the need to use a different printer to print on plain copy paper.
This state-of-the-art printer is available in two affordable bundles starting as low as $166/month with 0% financing! Now that's a great deal.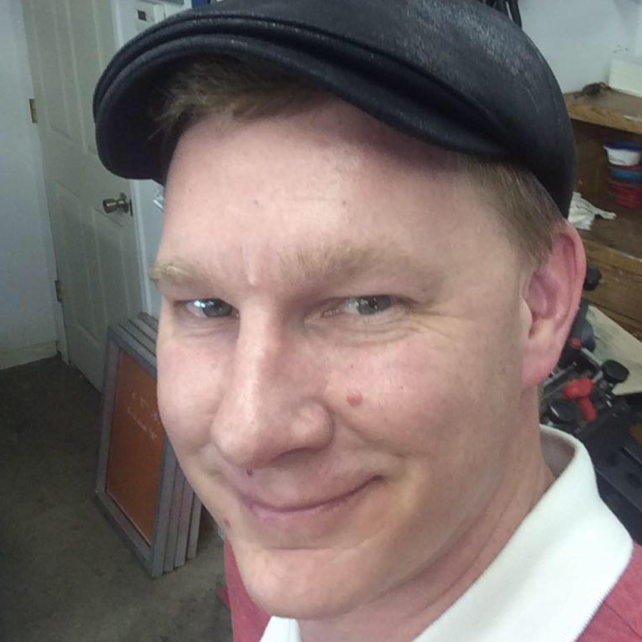 "
Excellent customer service and
,
a great machine.
"
Ricoma takes care of you!
I'll always get a Ricoma as our business grows!
One incredible bundle.
Endless possibilities.
Unlike other companies, Ricoma is not a one-and-done business. Our goal is to provide the best customer service from the moment you purchase your Luminaris 200 bundle until the day you no longer need our help, but, we'll stand by anyway ;)
We promise to do everything we can to support you as you begin this new journey and get acquainted with your new machinery. We have knowledgeable experts who can help you with any technical questions you might have. We're even available after hours and on weekends, so you never have to lose any sleep—or business. In addition to all the amazing things you'll get with your Luminaris 200 bundle, you'll also receive a wealth of knowledge from our staff through videos, newsletters, and social media.
Premium Bundle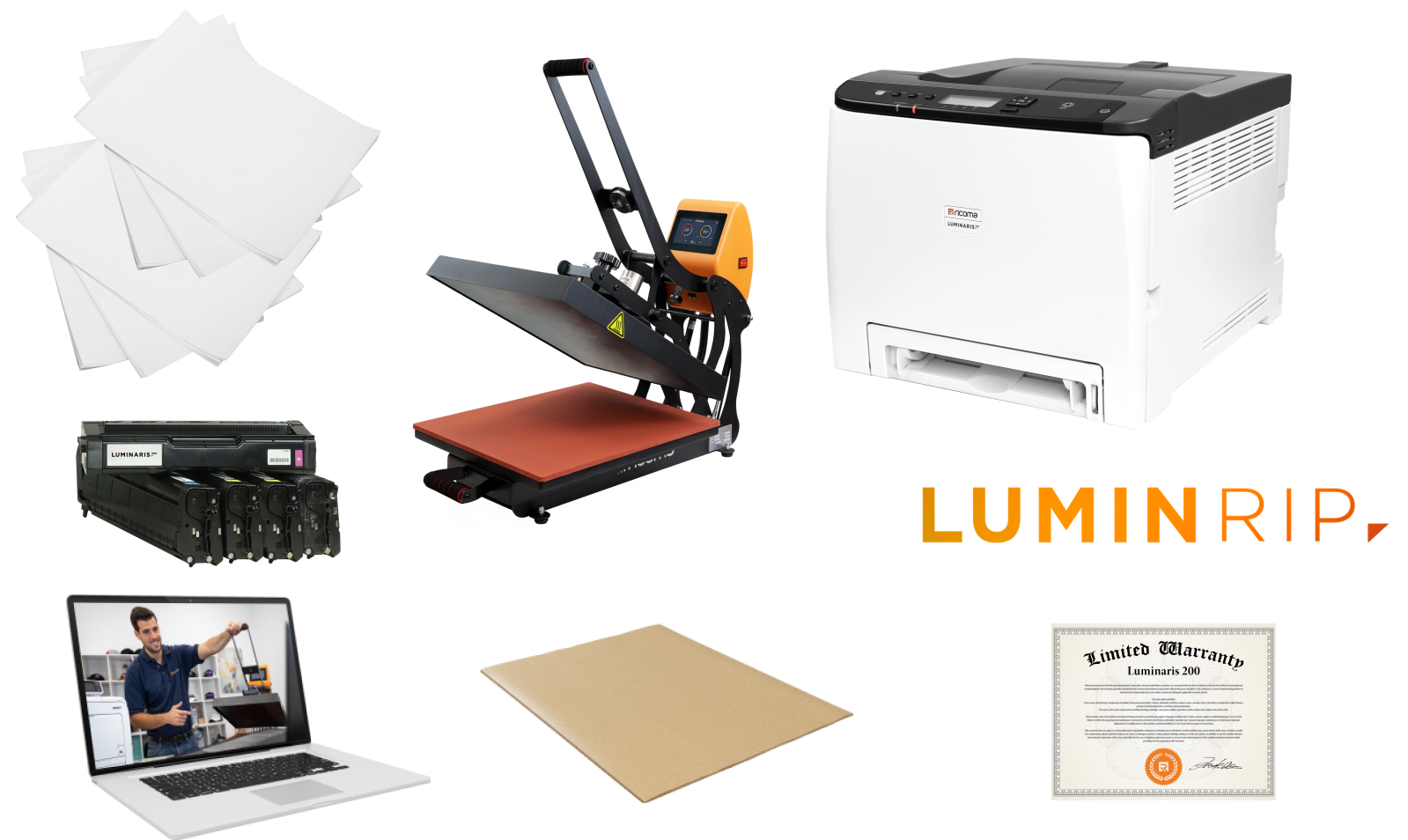 Ricoma Luminaris White Toner Transfer Printer
Ricoma Auto Open 16" x 20" Flat Heat Press
200 sheets 2-step transfer paper
Set of transfer toner CMYKW
LuminRIP Software (Mac and PC Compatible)
Live online training
18-month warranty
25 sheets of 16 x 20 Teflon paper
Printing Software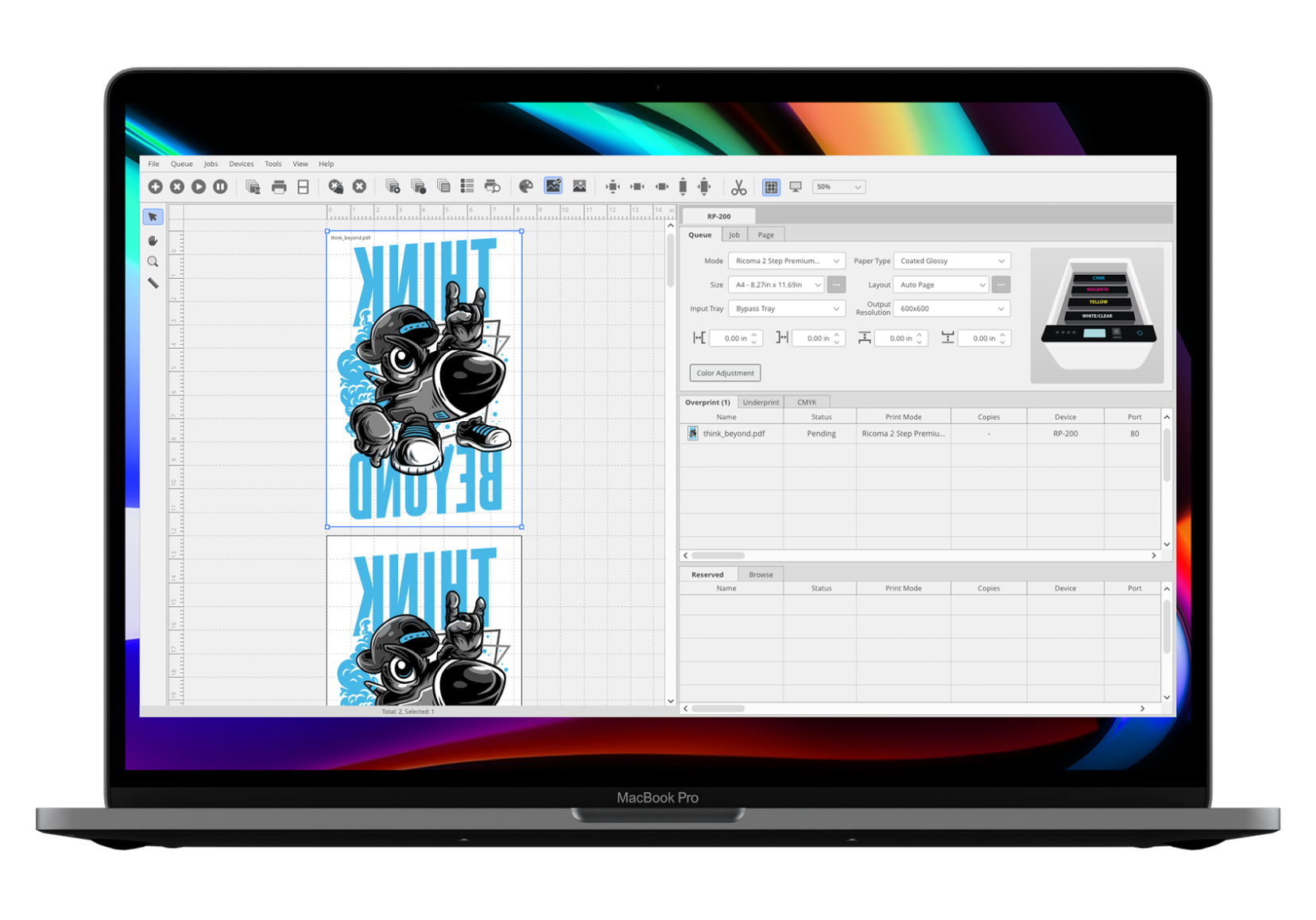 Along with the Luminaris 200, you will receive our cutting-edge printing software, LuminRIP.
Ricoma's intuitive LuminRIP software allows you to control every aspect of the printing process. Unlike other software that separates image editing and cutting into different software, LuminRIP has both features in one easy-to-use application. This allows you to edit, cut and print your designs all in one place, making the printing process more efficient than ever before!
LuminRIP also has three printing configurations you can access to accommodate any type of print job, including transfer printing, transparent printing and standard office printing. With LuminRIP, you can access all these tools and more to get the perfect print every time!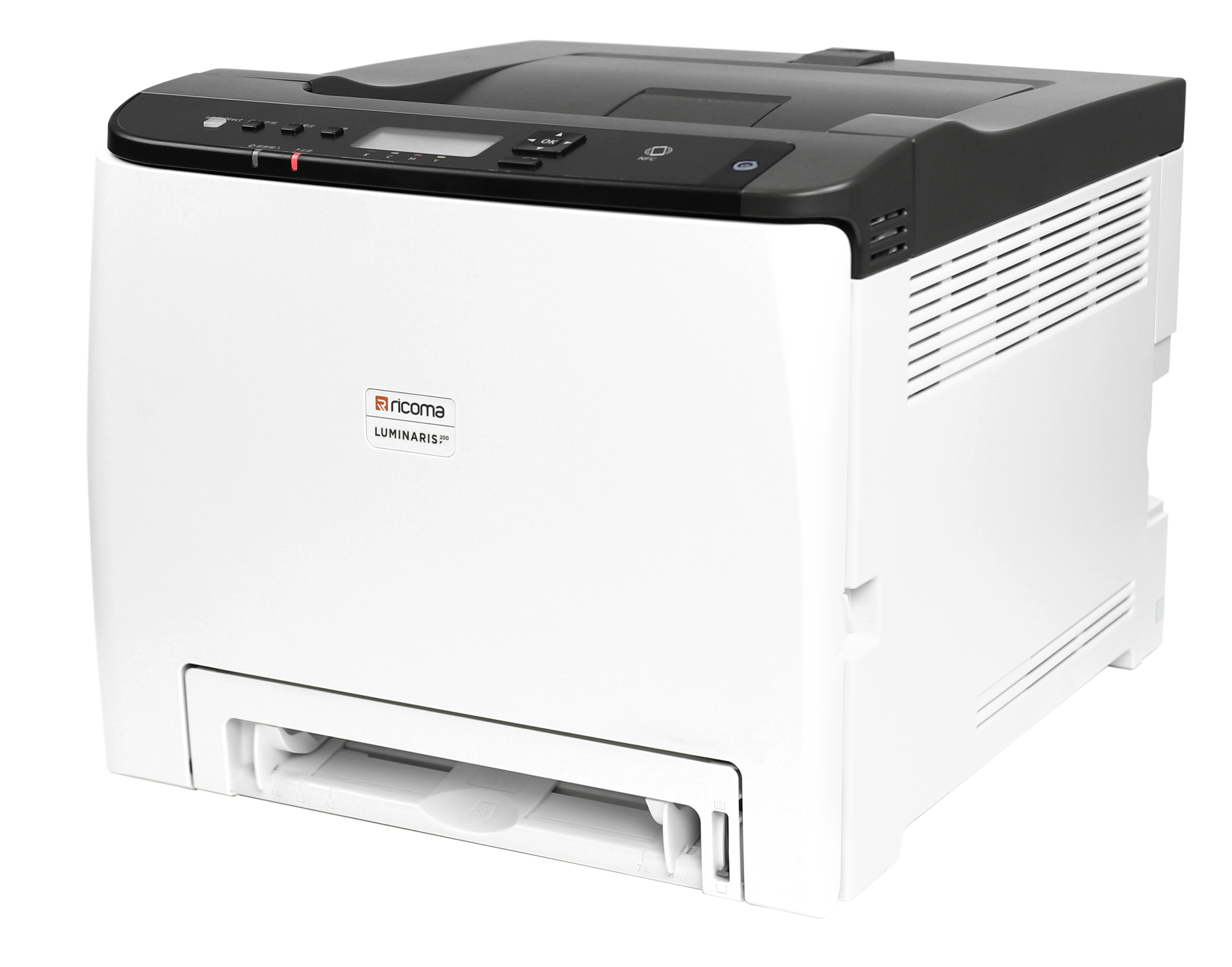 This offer is perfect for you if…
You want to start a printing business or expand your product line and generate more sales all at an affordable cost
You want quality, industry-standard equipment with the durability to print designs that will last through 100 wash cycles
You want a versatile printer that can create stunning designs on apparel while still being able to print everyday items like tax documents and marketing materials
You want the industry's best technical support after hours and on weekends to decrease your downtime and provide assistance whenever you need it most
You want to create products with the brightest and most vivid colors that will WOW your customers
This offer IS NOT for you if you don't want to expand your business with affordable, easy-to-use printing technology and top-notch support
See why Ricoma is #1 when it
comes to customer satisfaction…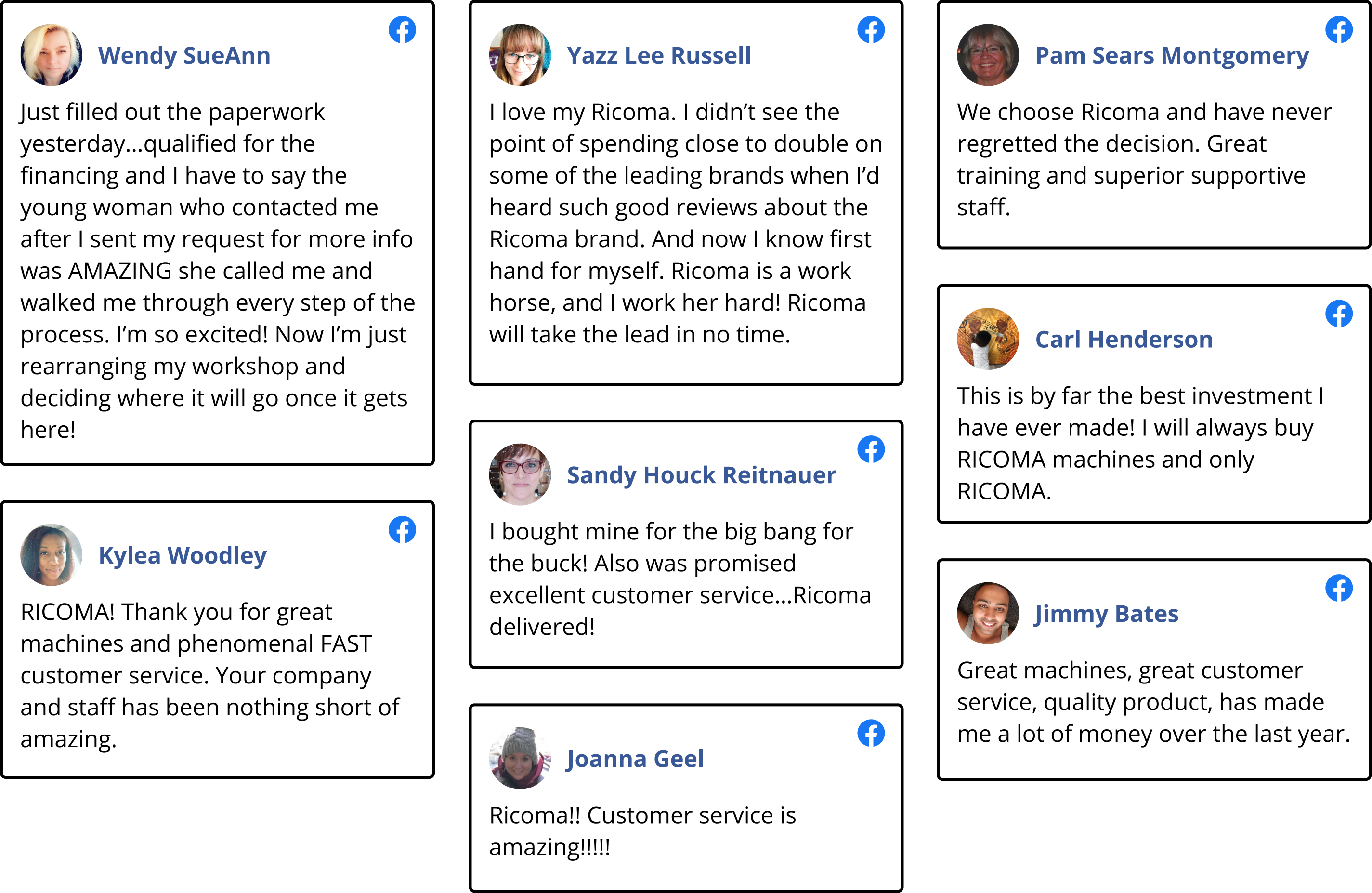 Cover your monthly payment with
just one order!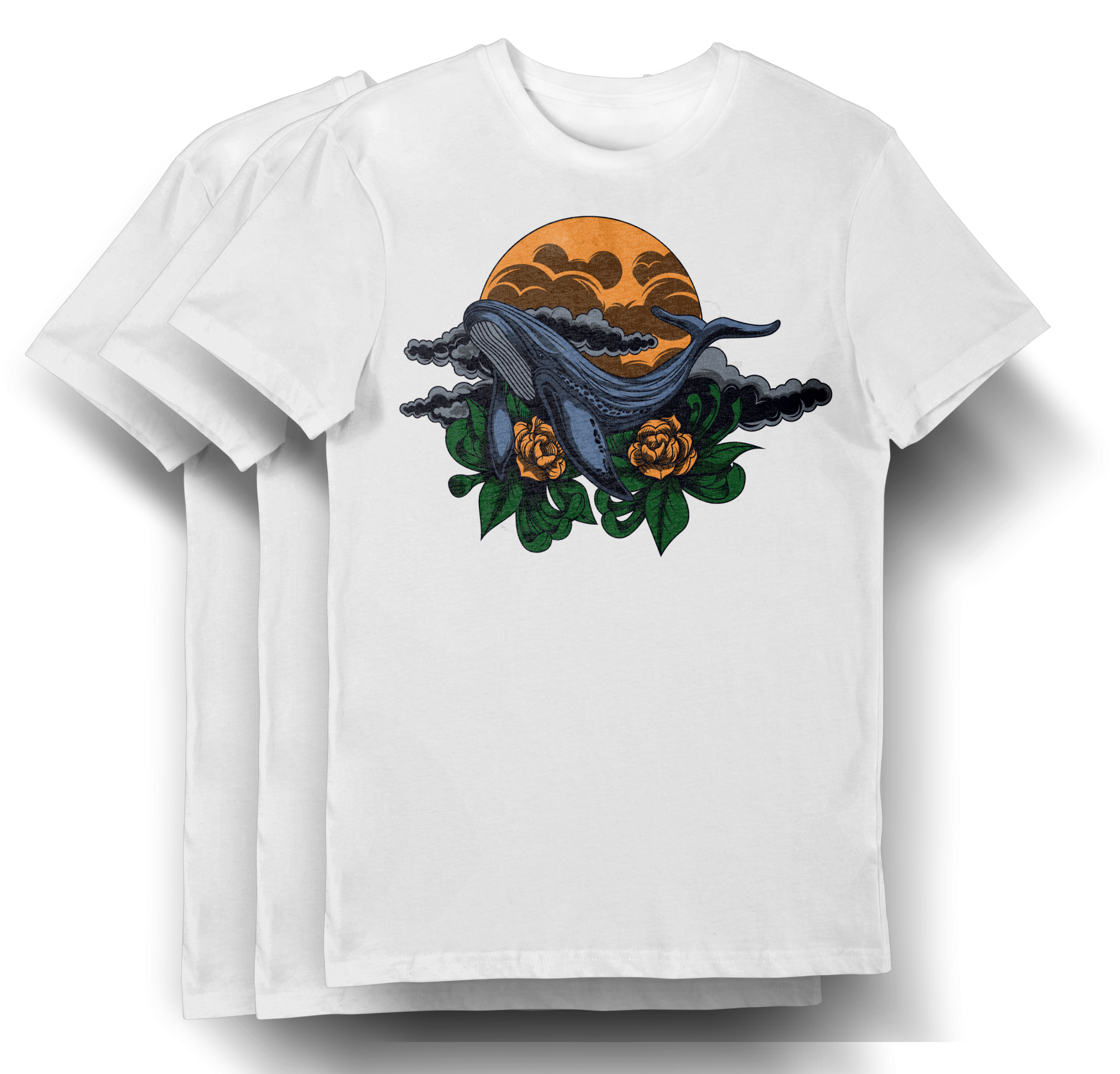 Do you know that you can cover your monthly payment AND make a profit with just one small order of custom shirts?
Let's breakdown the math:
A typical wholesale t-shirt costs approximately $2.50. The transfer paper and toner will cost you approximately $2.50 per shirt, equating to ~ $5.00 per shirt.
On average, most shirts with a full-color custom print easily sell for $20 per shirt if sold individually.
That leads to a profit of approximately $15.00 per shirt!
With that in mind, one small order of 12 shirts is enough to cover your monthly payment of only $166/month!
Starting your first
business?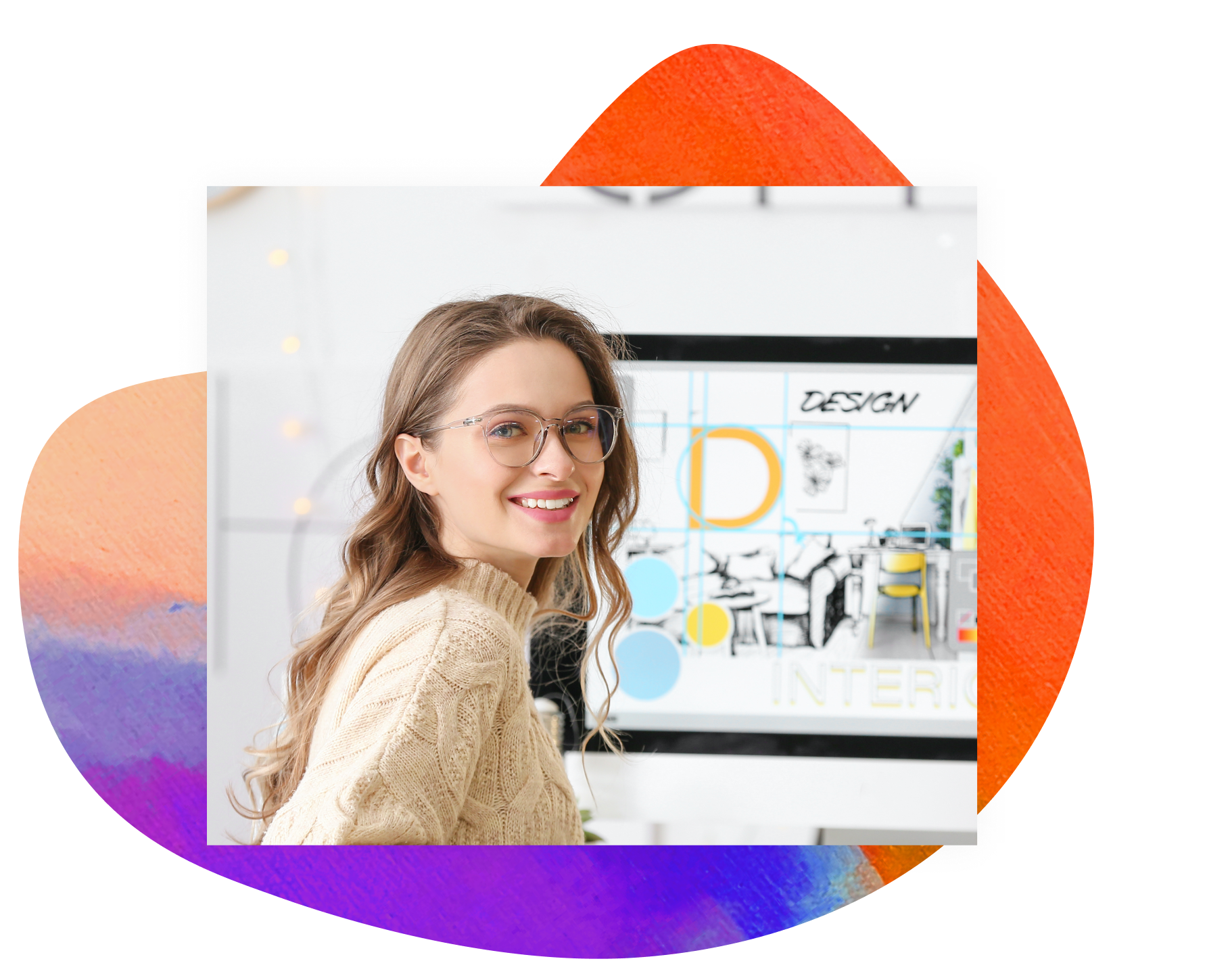 Are you a beginner printer and want easy-to-use technology that you can set up and learn right away?
The Luminaris 200 printer and heat press combo is the perfect way to get everything you need to start printing at an affordable price, especially when everything you'll need is already included in the bundle!
Whether you're a beginner or pro, the Luminaris 200 is easy to learn, and the included software is incredibly user-friendly.
You won't find a better deal on everything you need to get started from the printer, software, training, accessories and a top-of-the-line heat press starting at only $166/month with 0% financing!
Adding print to your existing business?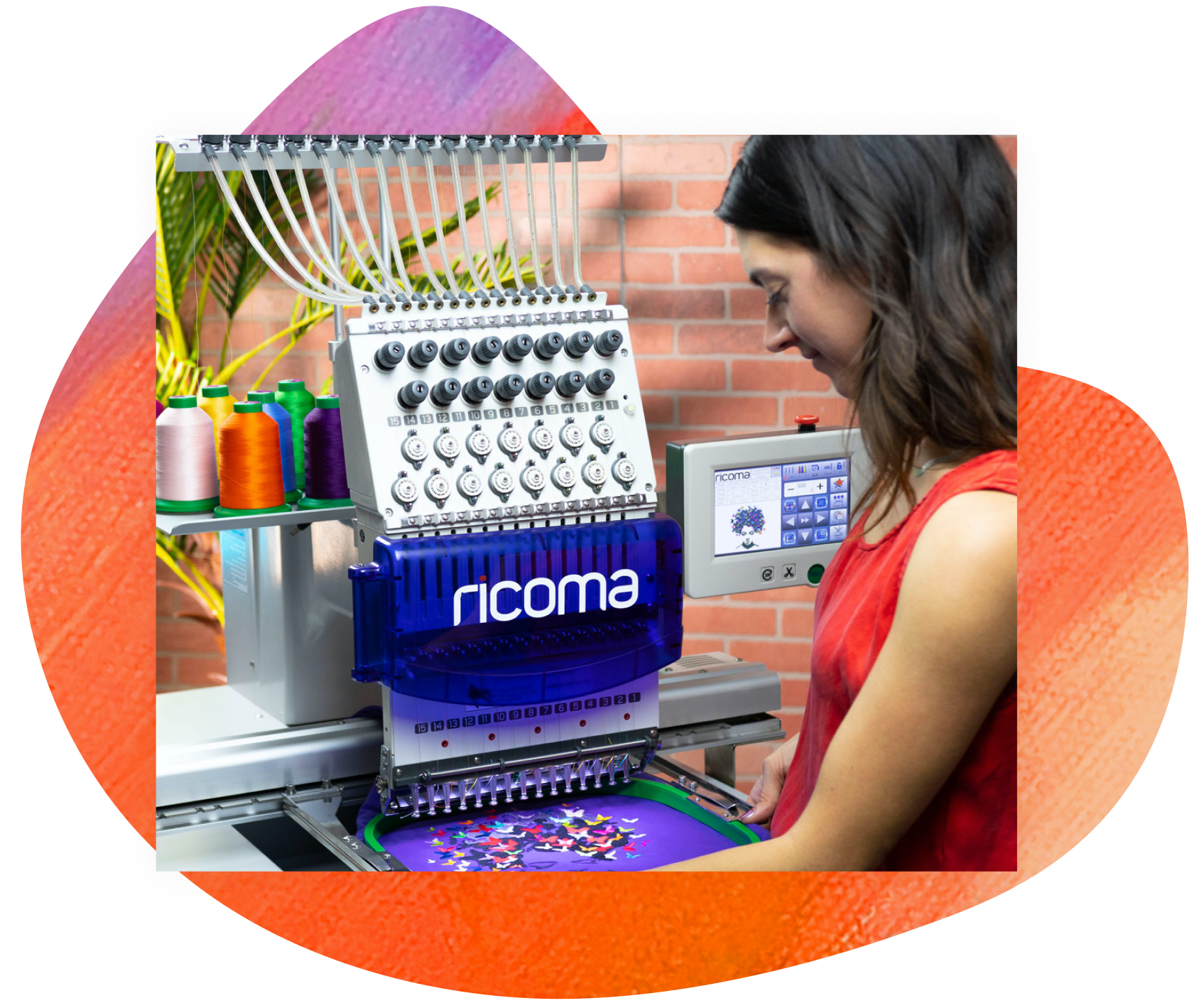 Do you already own an embroidery business or a regular print shop and want to expand to become a one-stop-shop for your customers?
Print is a highly profitable and easy-to-use method to create brilliant, professional designs on garments, mugs, caps, plates, and more with little effort and expertise required!
Unlike other apparel decoration methods, white toner transfer printers and heat presses are easy to learn, even with no prior experience.
You can also combine printed garments along with embroidery to create stunning and profitable works of art!
All of this is possible with payments as low as $166/month with 0% financing to get you everything you need to expand your business.
Live online training and video training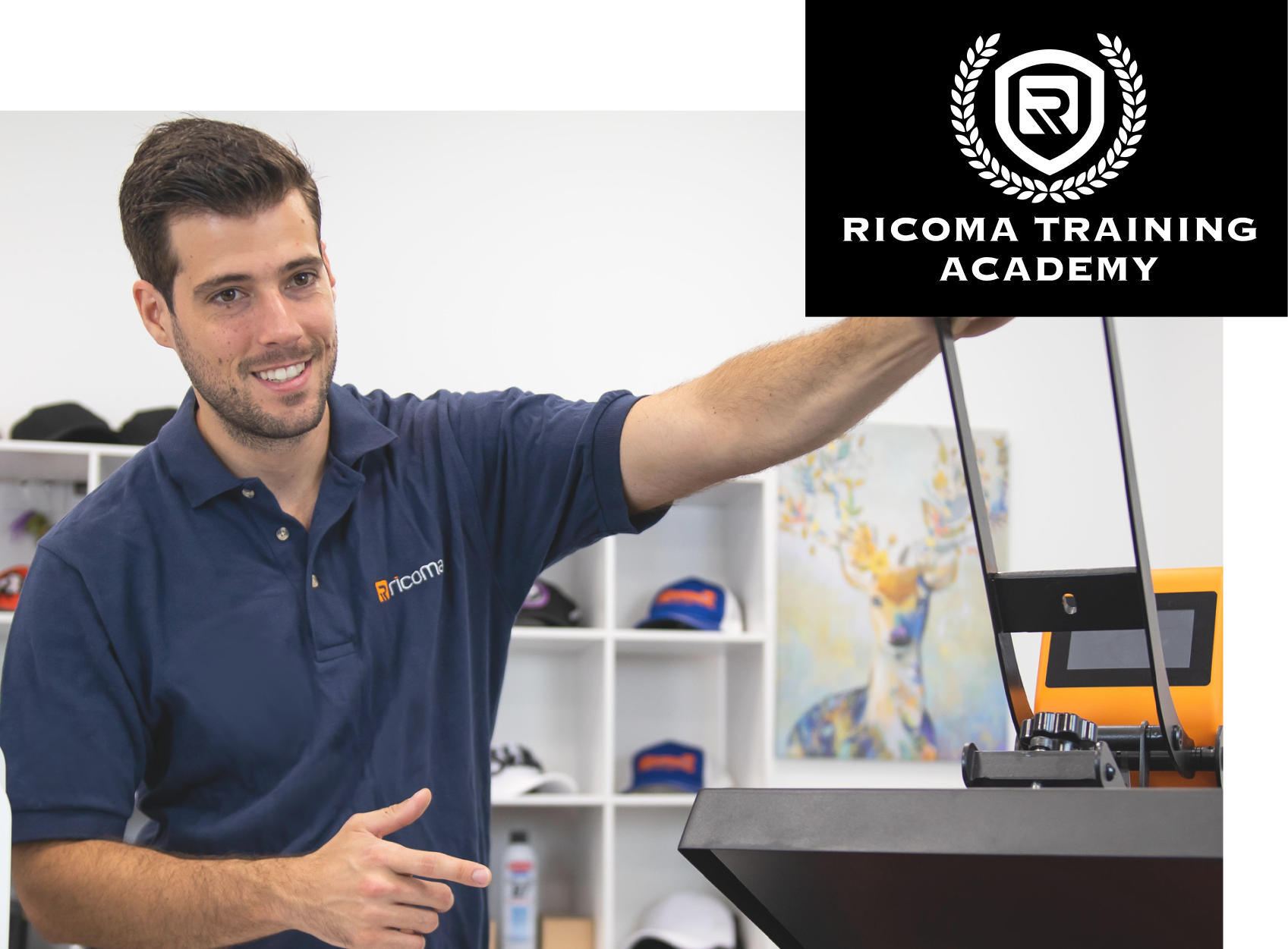 With Ricoma, you never have to leave your place of business to get training. That's because our bundle package come with both live online training and pre-recorded video training.
With the Premium Bundle, you'll be able to access training videos that will show you how to use all the cool features that come with the Luminaris 200. On top of that, you can watch them at your own pace—whenever and wherever.
You'll also be able to speak with one of our certified techs via live online streaming. This is a great way to get one-on-one support in real-time. So, if you're unsure about something, or have a specific question about the printer, you can simply ask our tech and get an answer right on the spot.
I'm almost ready...I just
have a few more questions.
No problem, check out the
FAQ below.
How big can you print with the Luminaris 200?
The Luminaris 200 uses the A4 printing size, which is big enough to create prints that cover a large area on the front of a t-shirt. However, with the LuminRIP (Mac and PC Compatible) software that is included in your bundle, you can go even bigger as it automatically cuts the design in a way that can be seamlessly pieced together. So if your customer needs a custom item like a long banner, the Luminaris 200 can print designs that are up to 52 inches in length.
What software is included with the Luminaris 200?
The Luminaris 200 comes with a software package that includes the LuminRIP (Mac and PC Compatible).
Does the Luminaris 200 come with toner?
Yes, it includes the following toner cartridges: cyan, magenta, yellow, black, and white.
Don't see your question answered?
Just fill out the form and we'll be sure to answer any questions you may have.
Specifications
Print Speed
Up to 8 pages per minute (ppm) on transfer media and up to 26 ppm on standard media.
Duty Cycle
Up to 65,000 pg/mo
Resolution
2400 x 600 dpi
Operating Systems
Standalone and network - Microsoft Windows® 7/8/10 (x32 & x64)
Interfaces
10/100-TX Ethernet, Wireless LAN, High-Speed USB v2.0
Paper Capacity
Standard 251 sheets; handles transfer media, card and mailing label stock. For paper Cassette: 251 sheets Legal/Letter/Universal
Paper Sizes (Min. To Max.)
Bypass Tray 3" x 5" to 8.5" x 14"
Paper Cassette 5.8" x 8.3" to 8.5" x 14"
Paper Weight
Bypass Tray 16 lb. bond to 43 lb. index (60 to 163 gsm)
Paper Cassette 16 lb. bond to 43 lb. index (60 to 163 gsm)
Printer Size
(WxDxH): 15.7" x 17.7" x 13.1" (400 x 450 x 334 mm)
Printer Weight
55 lb (25 kg)
Power
110v with converter to 220v